Starting a wedding photography business needs a portfolio but it can feel like and uphill struggle. You can't build the portfolio without wedding bookings but can't book weddings without the portfolio. But there are ways to escape this cycle and I am going to share with you how to build your wedding photography portfolio.
Start with thinking about who you want to work with, your ideal clients.
Think about the types of couples and weddings that you want to photograph. It can be tempting to think that you will work with anyone who is willing to pay you BUT weddings come in so many shapes, sizes and styles that they won't all float your boat. Hone in on what you love and be deliberate about building a portfolio that is as aligned to that.
Practicing with friends
Probably the easiest and cheapest way to build a portfolio is to ask your friends, family or colleagues to model for you. Offer a free couple shoot in exchange for the images if they allow you to use them in your portfolio.
Weddings are couples dressed up nicely so images of couples will be able to demonstrate your shooting style and edit. You may even know a couple that have recently got married that may be prepared to get their wedding outfits back on for you.
These images may only get you to a certain point in your portfolio building journey but your first weddings might come from friends and family asking you to photograph theirs. These images will be perfect examples of the work you can do for them. They will also be great content to share with established photographers that you would like to work with for example as a second photographer. Don't forget the confidence building that will come from the practice too.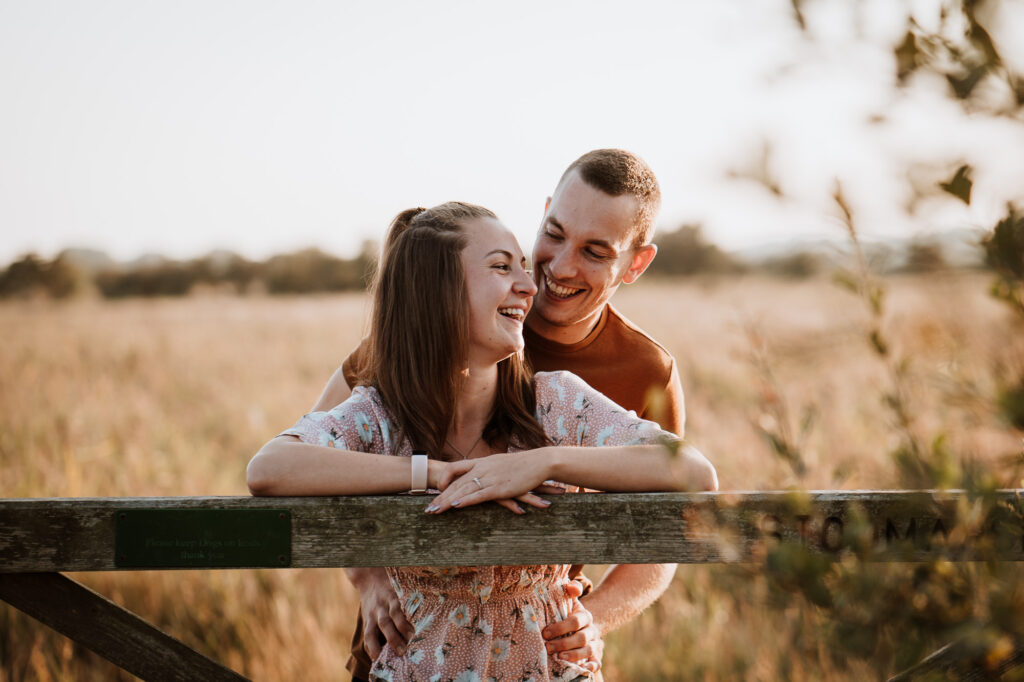 Styled shoots
A styled shoot is basically like a pretend wedding. Usually organised by one supplier, all the other suppliers tend to work for free in exchange for the images that can then be used to add to their portfolio. There is no ceremony and there are no guests but typically they include a ceremony area set up, a wedding breakfast set up and then portraits of the couples and details.
Suppliers that are usually involved are:
Venue
Models
Dress
Shoes
Suit
Hair
Makeup
Flowers
Cake
Accessories
Stationary
Props and styling
Once completed, the images are shared to everyone and then whenever the images are used on social media all the suppliers involved are credited. They do involve a lot of planning work if you choose to put it on yourself but they may be the one that will reap the best rewards. You get the images for your portfolio, gain valuable connections from the networking involved, and get great exposure when other suppliers share the images and credit you in them.
There are groups on Facebook specifically for styled shoots. You may be able to offer yourself up to be a photographer for one without having to do the planning. You can find a link to one of them here.
Don't forget to think about the vibe and look of the shoot and consider if it will align to the weddings you want to shoot in the future.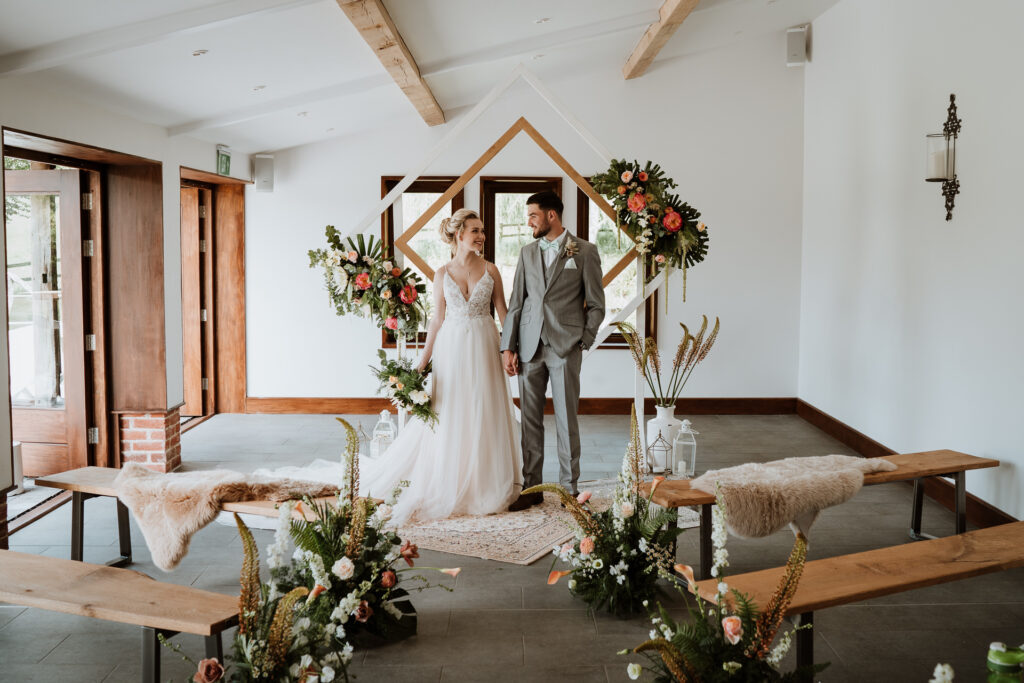 Portfolio Building Workshops and Courses
Portfolio building workshops have really grown in popularity recently. They are similar to a styled shoot but all the work connecting suppliers and putting the setup is already done for you. You just turn up and shoot.
The cost for this option is likely to be higher but if trying to put together a styled shoot fills you with dread this may be the perfect solution. They will usually involve a number of different looks and couples on each day so you get a variety of images. The host is usually an established photographer and also gives guidance about shooting.
There is a huge selection of workshops available so again, choose one that reflects the weddings that you want to attract.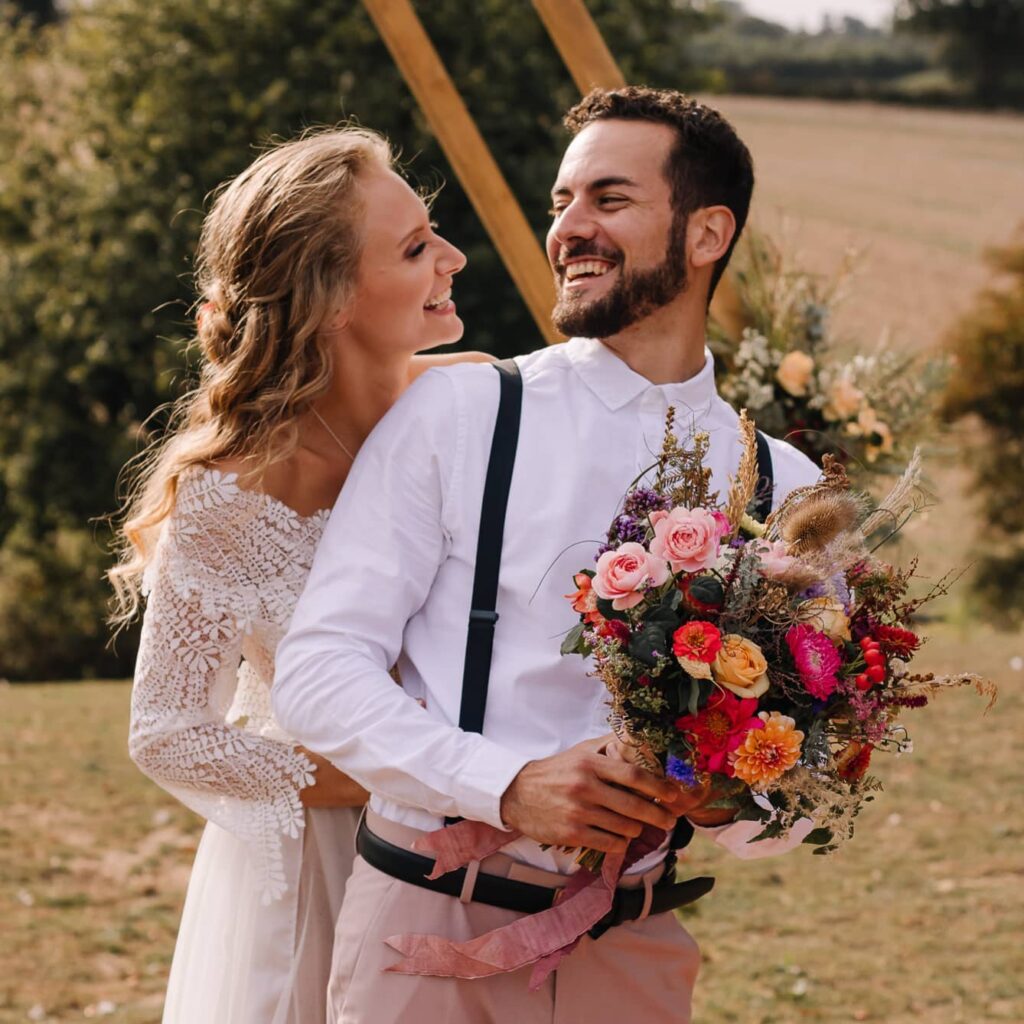 Second shooting
Second shooting is the best way of gaining real wedding photography experience BUT it can be the hardest to get the opportunity to do. Second shooting is exactly what it says. You are the second photographer at a wedding booked by the primary photographer. Second photographers are usually paid based on their experience and it can vary greatly.
Your experience of second shooting will really depend on the primary photographer. Some will expect you to photograph one half of your couples morning preparations whilst they are with the other half, assist them with lighting and setting up shots and to get reportage whilst they are shooting portraits and shoot the ceremony from a different angle to them for example.
Others can have a different approach entirely and treat the second almost like a back up. You can shoot alongside them for the day with access to the couples and you will be able to capture enough images to create a whole wedding gallery. The first step is to find the opportunity and as I have said this isn't always easy.
Shortlist photographers whose work you love and get in touch to ask them.
Ask in photography groups on social media if anyone is in need of a second photographer. Ask permission from group admins before doing this and have a portfolio of couple images to show them so they can see your style.
There are also groups on Facebook for photographers looking for seconds.
You won't always get replies but don't take this personally. You just have to KEEP GOING.
When you do get the opportunity remember to agree not only on your fee but also on the terms of the image use as you want to be able to use the images in your portfolio to attract wedding bookings of your own.
Opportunities for second shooting can sometimes be hard to come by. But don't give up.
Keep trying the handles and eventually the right door will open to you.
Before you go, I want to make one more point.
You don't have to do any of these things before shooting your first wedding!
I had NO wedding experience at all but I dived straight into that deep end and photographed a wedding for the first time, solo. The portfolio building came after. You can grab my guide to 10 steps to photographing your first wedding like a pro here
I hope that you have found these tips on how to create a wedding photography portfolio helpful. For more useful information on starting your wedding photography business check out the blog here.